Adas Polo is an Iranian rice dish with lentils. It's a simple and yet delicious dish. It can be made with raisins or dates. Some even make it using both raisins and dates.
The combination of cinnamon with raisins or dates adds a fragrant flavour which, in my opinion, turns this dish to a comfort food.
Lentils are a great source of iron. 1 cup cooked lentils contains 6mg iron – the recommended daily allowance (RDA) of iron in the UK is 8.7mg a day for adult men and 14.8mg a day for adult women.
Cinnamon is packed with anti-oxidants, helps with digestion and immunity and has a positive effect on blood sugar levels.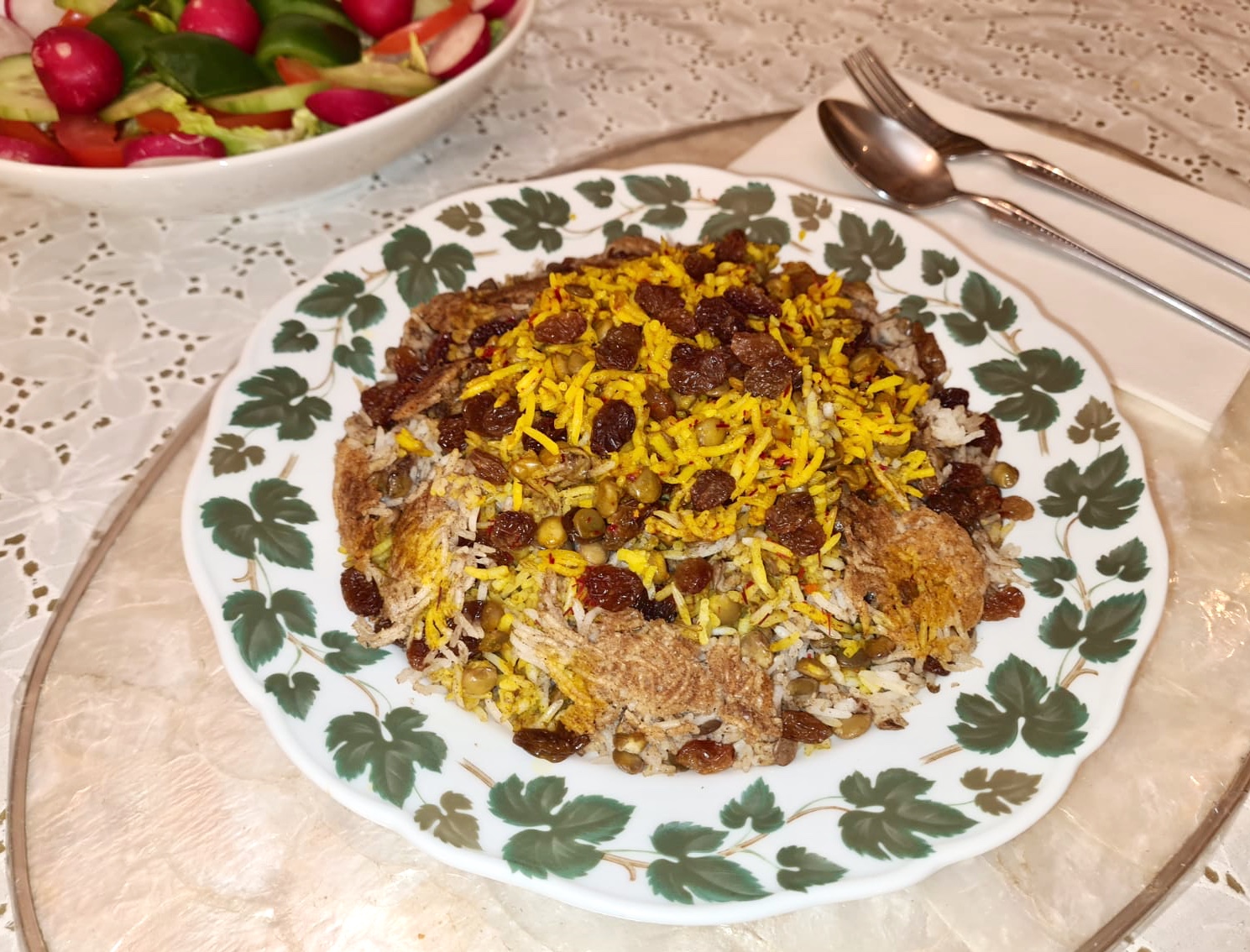 2 cups Basmati rice 
2 cups green lentils

1- 1 1/2 cups red raisins 

1 medium onion chopped
1 tbsp vegetable oil
Optional: 1 medium potato thinly sliced or 1 pita bread
1-2 tsp ground cinnamon
1/4 tsp ground saffron
1/2 tsp turmeric
1/4 tsp black pepper
salt to taste
2 ice cubes
Step by Step Instructions
Step 1
Leave 2 ice cubes to gently melt on the ground saffron – this way the saffron will retain its nutrients – and set aside.
Step 2
Rinse rice 3 times with cool water (or until the water runs clear), soak in 3-4 cups of water with 1 tbsp salt for 2-3 hours (or overnight).
Step 3
Bring a large pot of water to boil. Drain the rice, add to the boiling water and cook on medium heat until tender. Drain rice and set aside.
Step 4
While the rice is being cooked, wash the lentils thoroughly and add them to a large pot. Add 2 1/2 cups of water and simmer on low heat for 20-25 min or until tender. No need to drain the water.
Step 5
In a large skillet, sauté the chopped onions over high heat in water for a few minutes until onions have softened slightly. Add the lentils and mix well. Cook for a few more minutes until the water has evaporated. Add the raisins, turmeric, black pepper and salt and stir to combine.
Step 6
In the same pot you've cooked your rice, add vegetable oil, then add the potato slices or your flat bread. Add a layer of rice, place a layer of the lentils-raisins mix and sprinkle cinnamon, then another layer of rice followed by a layer of lentils-raisins mix and sprinkle some more cinnamon. Lastly pour the saffron water over the rice mix. 
Step 7
Wrap a towel around the lid and then place the lid. The towel prevents steam from escaping.
Cook on low heat for 25-30 min.
Step 8
To serve, spoon the rice into a large serving dish, remove the crusty potato/bread layer (called tahdig) and serve separately.